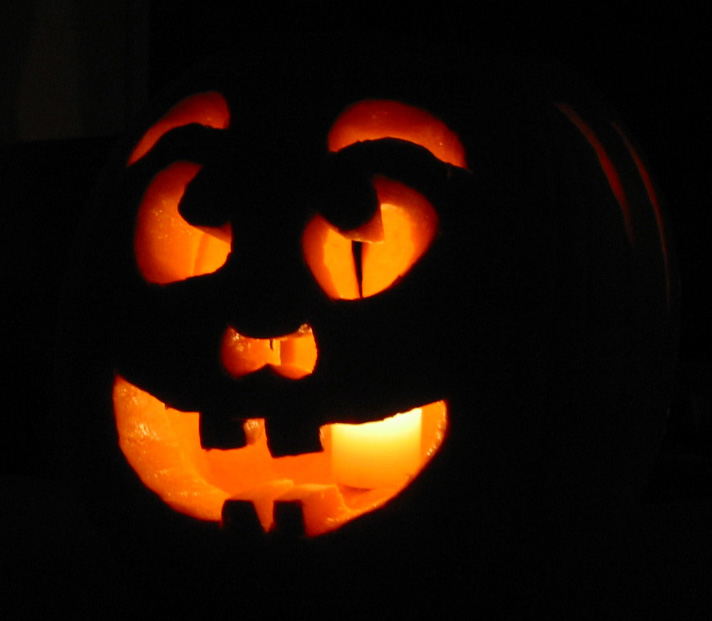 I wrote last year
about how much I dislike the obsessive greed of Halloween
. Yes, you can argue that Christmas is a more greedy time, but at Christmas I receive gifts and I give them too unlike Halloween which seems to be about taking from strangers without the giving or the peace and goodwill to all men.
There is though another element to Halloween which worries me greatly aside from the affect it has on young people, and that is the real feeling of menace on the streets and the fear it puts in to people.
Outside my local Chinese takeaway earlier, groups of teenagers in masks were stood around asking people for money as they left. One boy stood with a box of eggs from the local Tesco. What were we to make of this ? Clearly an intimidating situation for many and probably why some people were handing them money. Perhaps being a school teacher and not insubstantial at 6ft 3 inches tall, I didn't hand them anything. The question is, for the teenagers, are they able rationalise between groups of younger children going out with their parents asking for sweets and the asking for cash outside a shop. How can you tell them they are wrong ?
Five years ago those teenagers were out with their parents doing their "trick or treat" thing in a so called "fun" way. I was told last year by one commenter to my blog that it was harmless fun. But when does harmless fun for a child turn in to anti social behaviour for a teenager ?
The fact remains that the "fun" for people in trick or treating lies in 99% of cases with the person receiving the sweets, the money and the toys. Very little fun, if any , lies with the people who have to buy sweets, hand over money, be constantly disturbed or in very many cases be scared out of their wits all evening for fear of gangs of kids knocking on their doors.
Speaking to a small sample of people I work with, not one was excited, pleased or spoke joyfully about Halloween. Some were doing as I do, turning off all their lights at the front of their houses, sitting in semi darkness and pretending that they were out. A couple were going out for the evening in order to avoid the trick or treating whilst others knew it was something they would have to endure to avoid having eggs thrown at their houses. Yes, for all the claims about it being a bit of fun, eggs are commonly thrown at houses on Halloween. One colleague told me that where she used to live kids demanded money on your walk home, or if you had no money they asked for cigarettes !
What a lovely time of the year this is.
I am sure that for those with very young children calling on "known" neighbours, halloween can be a bit of fun. However, this does, in my opinion, legitimise the enormous amount of menace, fear and general unpleasantness that goes on every 31st October. That in my opinion is not a good thing.